Hillsboro: Blazing a Trail to a Bright Economic Future
28 Oct 2020
Economic News, GPI in the News
Hillsboro has long been an economic engine of Greater Portland and its growth shows no signs of slowing. The city of 103,000, located just west of Portland, is home to Oregon's largest private employer, Intel, and is the heart of the Silicon Forest.
Intel employs over 20,000 in Hillsboro at its R&D headquarters. Hillsboro has grown into a global hub for the following industries:
Computers and electronics
Biosciences and medical devices
Communications, software, IT and data centers
Advanced manufacturing
Big-name Hillsboro employers include Genentech, Thermo Fisher, Applied Materials, Tokyo Electron, Nvidia, Salesforce, NTT Global, ASML, Qorvo and Epson.
The City of Hillsboro continues to invest heavily to ensure that it remains an attractive place to do business.
The city is currently investing over $10 million in its 720-acre Hillsboro Technology Park. Businesses currently operating or under construction in the Tech Park include JSR Micro, Genentech, T5, Flexential, OTS and Stack Infrastructure, adding hundreds of new jobs and more than $200 million in facility investment. In addition, 260 acres is reserved for large lot investments with a minimum development area of 50 acres.
Portland General Electric has partnered with the City of Hillsboro to create the Hillsboro Reliability Project that includes upgrading two major substations, rebuilding another substation and constructing a new substation to support the Tech Park. Six new power transmission lines will also be constructed as part of this project.
Hillsboro is also adding thousands of new housing units in South Hillsboro, the largest planned residential development in the history of Oregon. Once complete, the development will add 8,000 units (including affordable housing options) that will house 14,000 residents.
Hillsboro has a lot to offer its residents, and recently earned a spot in Money Magazine's top 50 best places to live. Activities include the Hillsboro Hops minor league baseball team and the Timbers 2 soccer team, along with excellent parks and recreational facilities. Ready access to world-class wineries, craft brewpubs, distilleries and fine dining attract residents and tourists alike. And one of Hillsboro's newest amenities is the Washington County Event Center, known as Wingspan. It will offer 39,000 square feet of exhibition space adjacent to a 13,000 square foot conference center.
More Topics

FOR IMMEDIATE RELEASE Oct. 23, 2020 Media Contact Anna Marum Greater Portland Inc anna.marum@greaterportlandinc.com 971-339-2012 Education Startup Revolutionizing the First-year College Experience Moves HQ to Portland  Verto Education is relocating its headquarters from the Bay Area to Greater Portland. PORTLAND, OR...
Greater Portland Inc is seeking our next president & CEO. Learn about this vital regional role and apply here.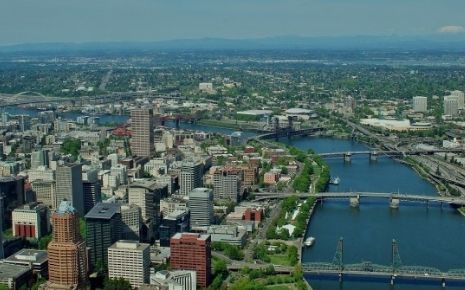 Greater Portland is the best place to live on the West Coast, according to a new ranking from U.S. News & World Report. To compile the annual list, U.S. News analyzed the 150 most populous metro areas and ranked them according to value, desirability, job market and quality of life...