City of Troutdale Announces RFQ for The Confluence at Troutdale Development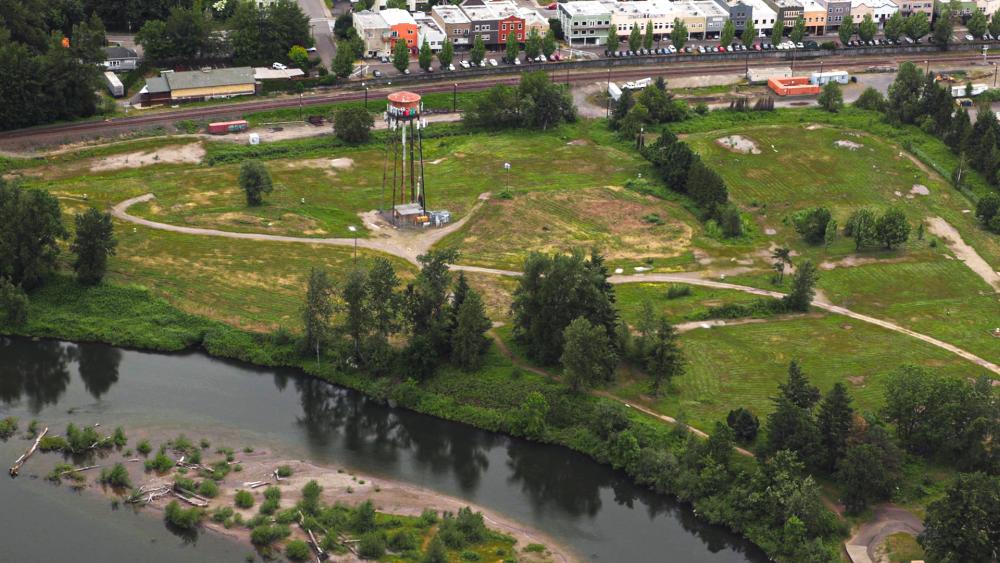 TROUTDALE, OREGON – The City of Troutdale Urban Renewal Agency is extending an invitation to visionary developers to submit their qualifications to design an entirely new riverfront district from the ground up at the gateway to the Columbia River Gorge.
The Confluence at Troutdale is a roughly 20-acre site including nearly 16 developable acres plus 3.4 acres dedicated for a public riverfront park and trail. It is strategically situated between historic Downtown Troutdale and I-84. The site is uniquely positioned at the nexus of natural and urban — the connection between the Portland Metro area and world-class outdoor recreation areas of the Columbia River Gorge and Mount Hood. It is perched on the banks of the Sandy River looking out toward the Columbia Gorge and Broughton Bluff and within easy walking distance of Downtown Troutdale.
The City is seeking a master developer to create a vibrant riverfront project with housing, hospitality, food, drink, and community gathering places — all with direct access to a new riverfront park and trail system. A dynamic development program and exceptional design will define the region's next new waterfront district and Troutdale's newest neighborhood.
This stage of the process is intended to be flexible. The City is not seeking detailed proposals or architectural plans for the site, although it would like to see any specific proposals that developers or others may put forward.
The RFQ is the first step in seeking qualified developer teams who have a compelling vision which supports our intentions for the site, who can articulate that vision, and who can demonstrate the capacity and experience to deliver on that vision.
The RFQ is available at theconfluence.info/rfq and responses are due no later than October 7, 2022 at 5:00 p.m. PT. Questions can be addressed to Ray Young, City Manager, and Marlee Boxler, Economic Development Coordinator at theconfluence@troutdaleoregon.gov.
You can view a promotional video and aerial drone footage on YouTube.
Learn more at www.theconfluence.info.
ABOUT TROUTDALE
The City of Troutdale lies just off I-84 on the eastern edge of the Portland metropolitan area near the confluence of the Sandy and Columbia rivers. Just 20 minutes from downtown Portland, 15 minutes from Portland International Airport and 15 minutes from the world-famous Multnomah Falls, Troutdale is the connection between a network of thriving cities and the world-class outdoor recreation areas of the Columbia River Gorge and Mount Hood. With everything from a quaint, historic downtown to large parcels of industrial land, Troutdale is perfect for growing families and growing businesses.