3 Trends Driving Commercial Real Estate Demands in Greater Portland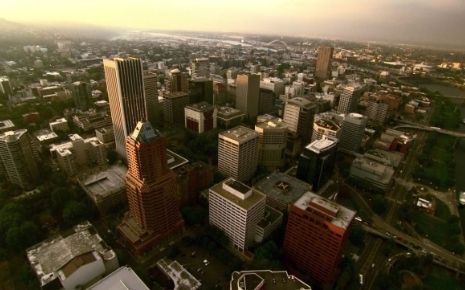 17 Jan 2020
GPI in the News
This column appeared in the Business Tribune. Matt Miller, Greater Portland Inc's interim president and CEO, writes a monthly column for the local newspaper.
We recruit companies of all sorts to our region. From advanced manufacturers like diamond-maker Element Six to financial tech startups like Coinbase, each company we recruit needs real estate. This is why we work closely with commercial real estate companies to help these companies find a home.
According to recent data from JLL, our region's commercial real estate costs for industrial and class A office are lower than those in other West Coast markets such as San Francisco, Los Angeles, San Diego and Seattle. As one of a company's biggest expenses, real estate costs are crucial in site selection, and Greater Portland's comparatively low real estate prices help keep our region desirable.
We recently hosted an event with some members of our Commercial Real Estate Advisory Group to share their expertise with our partners from throughout the region.
They identified several regional trends for 2020: Our manufacturing industry has potential to continue to outperform the nation's, our region's suburbs are increasingly attracting young people and Greater Portland's reputation as a great place to live will continue to draw talented workers to the region, attracting more companies in turn.
Manufacturing
While the nation as a whole has struggled to make gains in manufacturing, our region's manufacturers – from Intel and Lam Research to Daimler Trucks and Vigor Industrial – are thriving.
"Our manufacturing base is five percent above pre-recession highs, whereas the rest of the country is five percent below the pre-recession high," says Ashley Connor of CBRE. "That's a powerful thing to have that much manufacturing in our market."
This power lies primarily in the sector's diversity: Our region's companies make computer chips, footwear and apparel, freight trucks and parts for jets. This diversification protects us from a downturn in one industry.
Greater Portland's ability to attract talent helps, too. Stu Peterson, of Macadam Forbes, remembers working with a manufacturing client about a year ago that needed to hire 30 engineers in a year. They were able to hire all 30 within their deadline.
"I was amazed they got that kind of talent in that short period of time," Peterson says.
Suburbs
A Brookings Institution analysis of Census data shows that America's big cities are growing more slowly than they did at the beginning of the decade, while suburbs are growing more swiftly. This trend may be driven by millennials, now largely in their 30s, as they seek more space at lower prices. In Greater Portland, our real estate experts expect our region's suburbs – especially those with amenities – to continue to attract young workers and families.
Nolan Lienhart, of ZGF Architects, points to Vancouver, with its new waterfront development and walkable downtown, and downtown Hillsboro, which is served by light rail, as particularly attractive. He's seeing more suburbs invest in walkability and bike infrastructure, which he says are key to creating communities where people can work, live and play.
Amy Winterowd, of JE Dunn Construction, pointed to Beaverton's upcoming Patricia Reser Center for the Arts as an example of a suburb upping its game. "We're seeing communities bring in the amenities that people typically had to go to downtown Portland to experience," she says.
These sorts of amenities, along with good quality restaurants and nightlife, give residents more reasons to stay. And where people are, companies will follow.
Quality of life
There was no question among our experts that our region's reputation as a great place to live will continue to attract talented workers and, in turn, attract the companies that want to hire them.
As an example, Lienhart pointed to financial tech company Expensify, which Greater Portland Inc helped open a large Portland office in 2017.
"This was a case where one of the biggest factors for the company was culture, and the identity of this place," he says.
Connor agrees: "Quality of life is a huge selling point to want to be here," she says, citing work-life balance and easy access to the outdoors. "Any given weekend when there's snow you can go skiing, you can go snowboarding, or you can float rivers, you can rock climb, you can go hike, you're not that far from the coast. Really, you get a very high quality of life."
More Topics
On, a Swiss footwear company, has joined Nike and Adidas in siting a headquarters office in Portland. According to The Oregonian, the fast-growing company moved its North American headquarters to Portland from Clearwater, Florida after struggling to find qualified talent there.  Caspar Coppetti, one of the three Swiss friends...