Business Tribune Column: GPI Export Program Empowers Local Entrepreneurs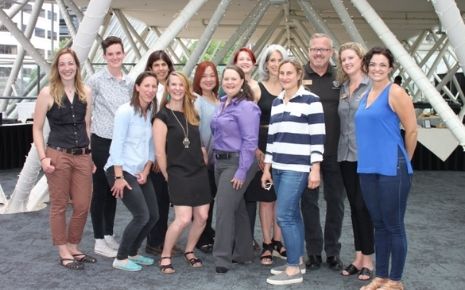 21 Feb 2020
GPI in the News
This column appeared in the Business Tribune. Matt Miller, Greater Portland Inc's interim president and CEO, writes a monthly column for the local newspaper.
Economic development is more than recruiting businesses from outside our region. It's also about supporting the businesses that are already here, especially those just starting out.
That's why Greater Portland Inc (GPI) is excited to be offering its fourth round of Growing Small Businesses Globally export assistance scholarships. By connecting recipients with valuable training sessions and providing a stipend for internationally focused sales travel, these scholarships help entrepreneurs looking to expand their business to international markets.
Since the program's launch in 2018, GPI has awarded 38 scholarships to local entrepreneurs, nearly 90 percent of whom are women, people of color and/or veterans.
Connecting small business owners with resources that help them expand their business outside of local markets is key to growing our regional economy, because it fosters growth from within.
Exporting offers small business owners a wealth of opportunities: According to the U.S. Commercial Service, more than 70 percent of the world's purchasing power is located outside of the United States. What's more, on average, exporting firms see faster sales growth, more job creation, and higher wages than at firms that operate locally.
But exporting for the first time can be tough, presenting entrepreneurs with logistical, legal and financial hurdles. That's where our scholarship comes in. The Growing Small Businesses Globally program taps local industry experts to guide participants through the process.
Training sessions are provided by GPI export partners at Business Oregon, the Oregon Department of Agriculture, the Small Business Development Center at Portland Community College, the U.S. Small Business Administration and the U.S. Commercial Service. The sessions include export finance consultation, designing a foreign market strategy and industry-specific advising.
Previous scholarship recipients include:
Reva Barewal, of Savorease
Kyra Bussanich, of Kyra's Bake Shop
Augusto Carneiro, of Nossa Familia Coffee
Callie Christensen, of Slumberkins
Zac Fitzgerald, of Bake Works
Jessica Hilbert, of Red Duck Foods
Chaunci King, of Royalty Spirits
Andrea Wade, of Honeybee Sparkling Lemonades and Syrups
"Participating in the Growing Small Businesses Globally program was an incredibly helpful resource for Red Duck in 2019," said Hilbert of Red Duck Foods. "Not only was I able to interact with and share best practices with other similarly situated exporting companies here in the Portland region, but the grant funded a trip to Vancouver, B.C. in anticipation of a huge sales promotion for us. Without it, we wouldn't have been as successful in Canada as we were last year."
The success of the program has led to national recognition. Last year, the Growing Small Businesses Globally program received the Program Excellence Award from the National Association of Small Business International Trade Educators.
We're proud to be able to support local entrepreneurs through this program once again, and we are grateful to the JPMorgan Chase Foundation for supporting the program with a generous grant.
"Foreign trade presents a powerful opportunity for small businesses to grow beyond their communities," said JPMorgan Chase Oregon Region Manager, Michael Hurley. "JPMorgan Chase is proud to partner with Greater Portland Inc and commends their work to prepare entrepreneurs from underrepresented communities to be successful on an international scale."
Growing Small Businesses Globally scholarship applications are available at greaterportland2020.com/export. The application deadline has been extended to Friday, March 6. Application questions can be directed to Amy Jauron, GPI's vice president of business development, at (971) 261-7090 or at amy.jauron@greaterportlandinc.com