14 mayors share legislative, economic updates at GPI's annual Meet the Mayors event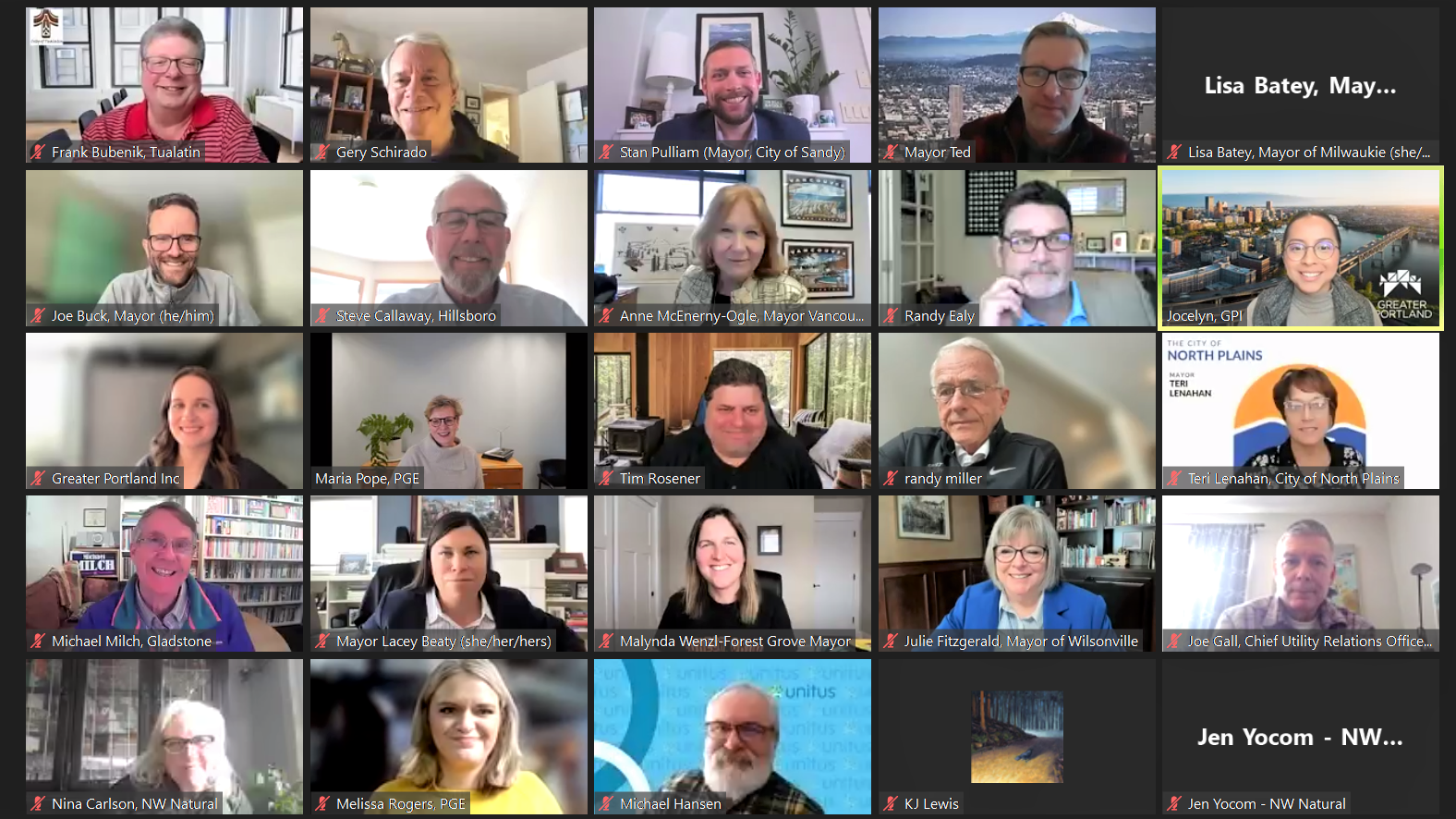 Fourteen Portland-area mayors met on Thursday, Feb. 23, to share their legislative and economic priorities for the year, which included addressing homelessness/housing supply, attracting industry, boosting climate resiliency and supporting workers through access to childcare and broadband.
The annual meeting was hosted by the Metropolitan Mayors' Consortium and Greater Portland Inc's Small City Consortium, and was sponsored by Portland General Electric. A recording of the conversation is available here, with the sections for each mayor's update linked in the video description.
The following mayors were in attendance:
Beaverton Mayor Lacey Beaty

Durham Mayor Gery Schirado

Forest Grove Mayor Malynda Wenzl

Gladstone Mayor Michael Milch

Hillsboro Mayor Steve Callaway

Lake Oswego Mayor Joe Buck

Milwaukie Mayor Lisa Batey

North Plains Mayor Teri Lenahan

Portland Mayor Ted Wheeler

Sandy Mayor Stan Pulliam

Sherwood Mayor Tim Rosener

Vancouver Mayor Anne McEnerny-Ogle

Wilsonville Mayor Julie Fitzgerald

Tualatin Mayor Frank Bubenik
See more GPI events here. Event sponsorship opportunities are also available. To learn more about our event calendar and sponsorship opportunities, contact Katie Stone at katie.stone@greaterportlandinc.com.